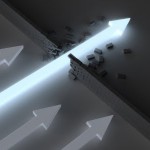 This may come as a big shock, but doing your best is not good enough!  In fact, doing what you think is your best effort isn't even close to the level that you could be performing.  That's a bold statement and here is my reasoning behind it.  Most salespeople have no idea what they are capable of achieving.  They know what they have done in the past and that usually becomes the barometer for what they will do in the future.  Some salespeople benchmark their performance on what others have done, reasoning that it should be good enough for them.
Until you understand "what is humanly possible", you will never achieve your true potential as a salesperson.  Until you have discovered the relationship between time, activity and money, you will never know your ability to sell.  Until you understand the power and apply the principles of goals and achievement, in your daily sales activity, you are only going through the motions.  Until you learn and apply properly, the principles and skills of salesmanship, you are just aimlessly wandering in a desert of opportunity.
Very few salespeople have ever stretched their personal performance far enough to discover the power that lies within them.  Recently I challenged several salespeople to reach and exceed their monthly sales goals.  They all had clearly defined sales performance targets.  These goals were written down and they had been working hard towards the achievement of the goals.  I ask each of them to put together a very specific plan outlining the detailed steps necessary to reach their sales target.  If they believed they could easily reach the target, we established a "super goal" to be achieved once the first goal was accomplished.  I asked each one to dig deep within themselves to unleash a power of achievement heretofore not seen.  Push yourself to the limit.  Discover what you are capable of doing.  Put your "sales peddle" to the metal.  The results were amazing.
Here are a few comments in their own words:
"This month turned out to be a pretty good month for me.  I had some great successes and was able to close out the month above my goal that I had set.  I believe that my hard work and diligence paid off for me."
"It just goes to show you that if you commit yourself to do something, it is much easier to work into the 11th hour to make sure you achieve what you set out to achieve."
"I can truly say that I did everything I could and now I will be able to see the benefits of my hard labors with the satisfaction of knowing I was able to accomplish my goal."
"The Last sale of the month was my best by far. I needed one more sale to make the 'salesperson of the month' and one more sale to be the highest % over my goal…. For the first time in my life it is all fitting together."
"With less than two weeks left in the month my coach challenged me to make August my best month ever….One of the important principles was that I just kept working at it, even on my way home from work that last day.  It is really quite exciting what we can do beyond what we thought we could do.  When I told my boss about reaching my super goal he told me that I had sold more in one month than the company's best salesperson had sold in a whole year, just a few years earlier.  We can do more than we think if we just set our goals and work hard."
I challenge every salesperson to examine your effort.  Have you really stretched yourself far enough to know what is humanly possible?  Your best sales performance thus far, pales when compared to the power that lies within.  Discover for yourself what you are capable of achieving.